What questions about atopic dermatitis should researchers tackle? 
Take a survey and have your voice heard!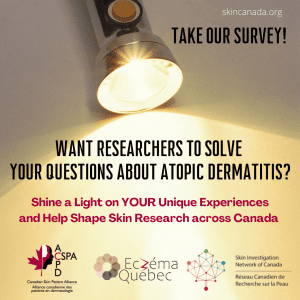 ESC is collaborating with the Skin Investigation Network of Canada (SkIN Canada), and asking patients, caregivers, and medical professionals to provide their unique lived experiences with atopic dermatitis by taking a brief 5-10 minute survey.*
Your input will help to identify the top research questions that are important to YOU!  
ABOUT SkIN CANADA
SkIN Canada has brought together a dynamic network of researchers, clinicians, patients and caregivers dedicated to advancing skin research in Canada. Its vision is to promote new, high-quality research that is guided by input from patients. Atopic dermatitis is one of nine distinct skin conditions that have been identified for study by SkIN Canada. For more information visit skincanada.org or contact: stakeholders@canadianskin.ca.
*Disclaimer: Eczema Society of Canada does not endorse this research program and provides this content for your informational purposes only. ESC cannot be held responsible for any events or incidents that may occur in connection with ESC informing the public of available studies or research.